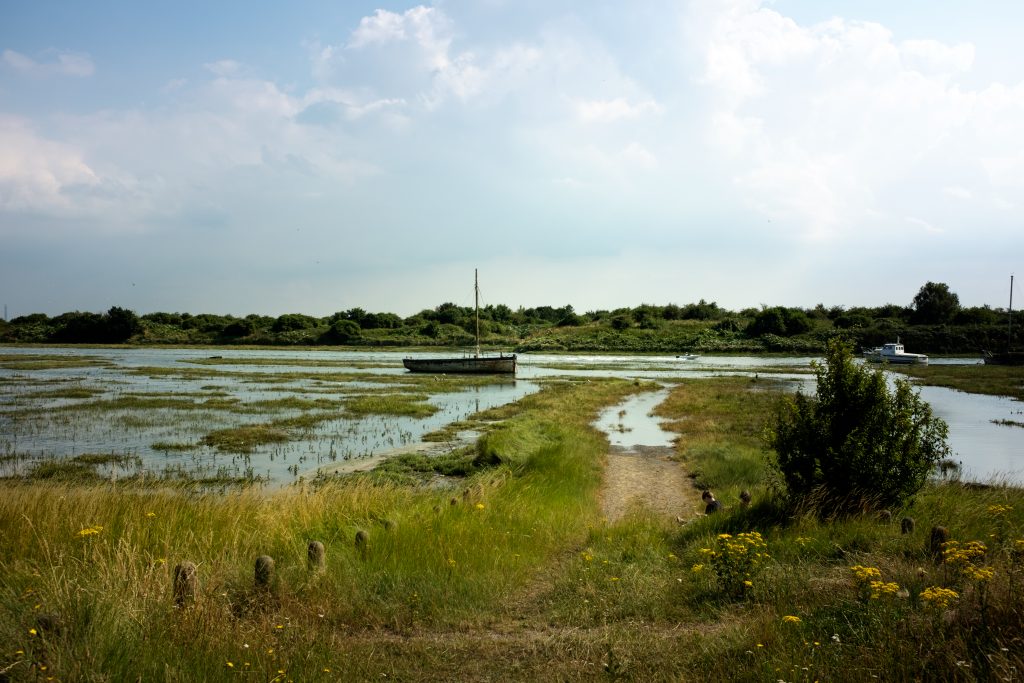 Graveyard of Lost Species is a temporary monument by artists YoHa and Critical Art Ensemble, commissioned by Arts Catalyst. The collaborative project celebrates the local tradition of wrecking boats on the salt marsh which in turn act as a concrete but decaying memory of what has passed. Graveyard of Lost Species records and acknowledges wildlife, marine creatures, people, livelihoods, fishing methods, landmarks, mythologies, and local dialects that once flourished in the Thames Estuary and are now absent.
Beginning in 2014, the artists led a series of enquiries, meetings, and events with people in Leigh-on-Sea and Southend to gather local knowledge of and expertise about these "lost species." From this research, a public territory of memory was created with a local wrecked fishing boat, the Souvenir—a forty-foot, twelve-ton Thames bawley, handbuilt in 1935 as part of the sailorman tradition of the swatchways. The Souvenir belongs to Ian Slater, who, after struggling to maintain it for years, generously gave it up to Leigh Marsh.
Epitaphs of the Common Mud
(carved on the exterior rails of the Souvenir)
Here are the names of the disappeared that haunt the Thames Estuary, presented for those who know, and for others to wonder.
What those who live here tell us, we believe. We enjoy confusion between aesthetics and fact.
We have pursued unreliable memories in all their misalignments and fragmentations.
We have uncovered many ways to think about the estuary, and all of them are true.
We are humbled by reams of common sense grounded in a lifetime of toil on the mud, the marsh, and the foreshore, made possible by all the forgotten fishermen's wives who live among us.
As "acceptable loss" fuels public amnesia on the road of "progress," we recall the dead, the lost, and the annihilated, to reconstitute them as significant—not in any objective sense, but as we need them to be.
The sea is a place to dispose of things one never wishes to see again: a dead body, a rotting hulk, illicit goods, cadmium batteries, arsenic, diesel, exhausted gear box oil, shopping trolleys, chip rappers, tin cans, and shoes.
At the end of the land is the sea. It has no roads. Rules relax.
The estuary is indifferent to us, and to all that is done within its limits.
Refuse to come ashore (at least in your mind).
The Missing, Disappeared, Evicted, and Extinct
(carved into the hull and upper deck)
Sturgeon
Sea Lamprey
Salmon
Hand-Raked Cockles
Mussels
Psychedelic Mushrooms
Foulness Island Hares & Dormice
Gasworks Creek Crabs
Leigh Creek Pink & Brown Shrimp
Eels
Smelt
Haddock
Cod
The Two Tree Elms
Longshoremen
Plates of Whitebait
White Weed
The Moss Shop
Five Bells in the Last Dog Watch
David Avery
Roy "Paddy" Bates
Radio City
Radio Sutch
Radio Essex
Lee Brilleaux
Nore Fort
Nore Lightship
Old Stormy (No. 14)
Maplin Lighthouse
Stevedores
Wharf Rats
Mudlarks
Canvey Stepping Stones
Broomway Brooms
Mary Ellis
Leigh Creek Flounder
Bass
Plates of Sprats
Grog
Alfred Boyton (Gotty)
Essex Lunatic Asylum
Witch Trials
Opium-Laced Beer
French Revolutionary Prisoners
Prison Hulks (13,300 held between 1811 & 1843)
Press Gangs
Press Gang Resistors
The Trojan
Rutters Pitchpiners
Luker Beer
Furca & Fossa
Semaphore Signal Stations
Doom Pond
Sarah Moore
Cunning Men
James Murrell
George Pickingill
Sarah Ann Bateman
HMS Beagle (Watch Vessel No. 7)
Marshal's Dance
Tilbury Point Gibbetings
Bugsby's Hole—Blackwall—Isle of Dogs
The Canvey Monster
Public Dissections at Surgeon's Hall
The Pillory
Transportation
Hangings & Torture
The Execution Dock
The Clink
Southend Holidays
The Kursaal Fairground
The Greasy Pole
Meet Singh Kapoor
Smelling the Tide
Timminoggy
Tingles
Corking Irons & Mallets
Pine & Black Tar Varnish
Grown Oak Knees
Steam Bent Frames
Hemp Rope
Manila Rope
Gutta-percha
Iron-Spiked Hulls
Richard Jackson
Frederick Wanstall
Joe Juniper
George Whatley
Vardon Drive Bungalows
Marsh Fever (Fen Ague)
Smallpox
Cholera
Polio
Malaria
Tuberculosis
Leprosy
Plague
Typhus Fever
Tweezers on the Pier
Critall Windows
Brickmaking
The Brickies
Eleanor Cook
Wakering Puritans & Nonconformists
London Clay Boats
Taking the Piss
Gravy Boats
JohnsonSons &Jago
A. F. Platt
Finesse Boats
Walker Boats
Sea King
Shuttlewoods Boat Yard
Houseboat Evictions, 1920–1950
Leigh Marsh Tip
Two Tree Island Tip
Pitsea Dump
Nobel Dynamite Factory
Munitions Ships on Hole Haven Creek
Dutch Eel Barges
Two Tree Island Eel Ponds
Thames Protest Armada
Jack the Rippon, the Environment Butcher
Amalgamated Society of Watermen & Lightermen of the River Thames
Medway Sailors & Bargemen's Union
National Union of Dock Labourers
Denny Winch & the Cycle Speedway Club
The Nore Mutiny, 1797
Richard Parker
Peter Boats
Smacks
Bawleys
The EU